different surfers
The summer attracts a different group of people to the beaches in the Algarve than winter. Most of the people in summer don't even come to surf and just make parking a little harder, (in most cases we are in the water way before the time the average tourist has had his first pastel de nata and we have no problems finding a good spot…)
With no accurate research available I would say that roughly 90% of the surfers in summer are the ones that come here for a surf-camp holliday. With that most of the (maybe) up-coming surfers are by no-meaning in our way, the school will avoid the more heavy breaks and will give the lessons on the most practical time for them, what might not always be the best time to surf, but if you need to learn how the stand up on whitewater- conditions are pretty quickly, really good!
So with that, there's 10% left. That 10% we can divide in 3;
1. (a lot!) People that should have been on a lesson.
2. (a few) Local (mostly super grommets) surfers that almost always rip.
3. (even less) Surfing tourists that cán actually surf.
It surprises me that many surfers on a holliday that I meet are not aware there is surf in the Algarve (at least not in this time of year.)
With expectations set not too high and being able to see the beauty also when its not perfect 6 foot offshore, surfing in the Algarve is the shit in summer! With hardly anyone in the line up, a nice audience on the beach and a small period swell that will deliver a thousand waves every minute its hard not to have a good time.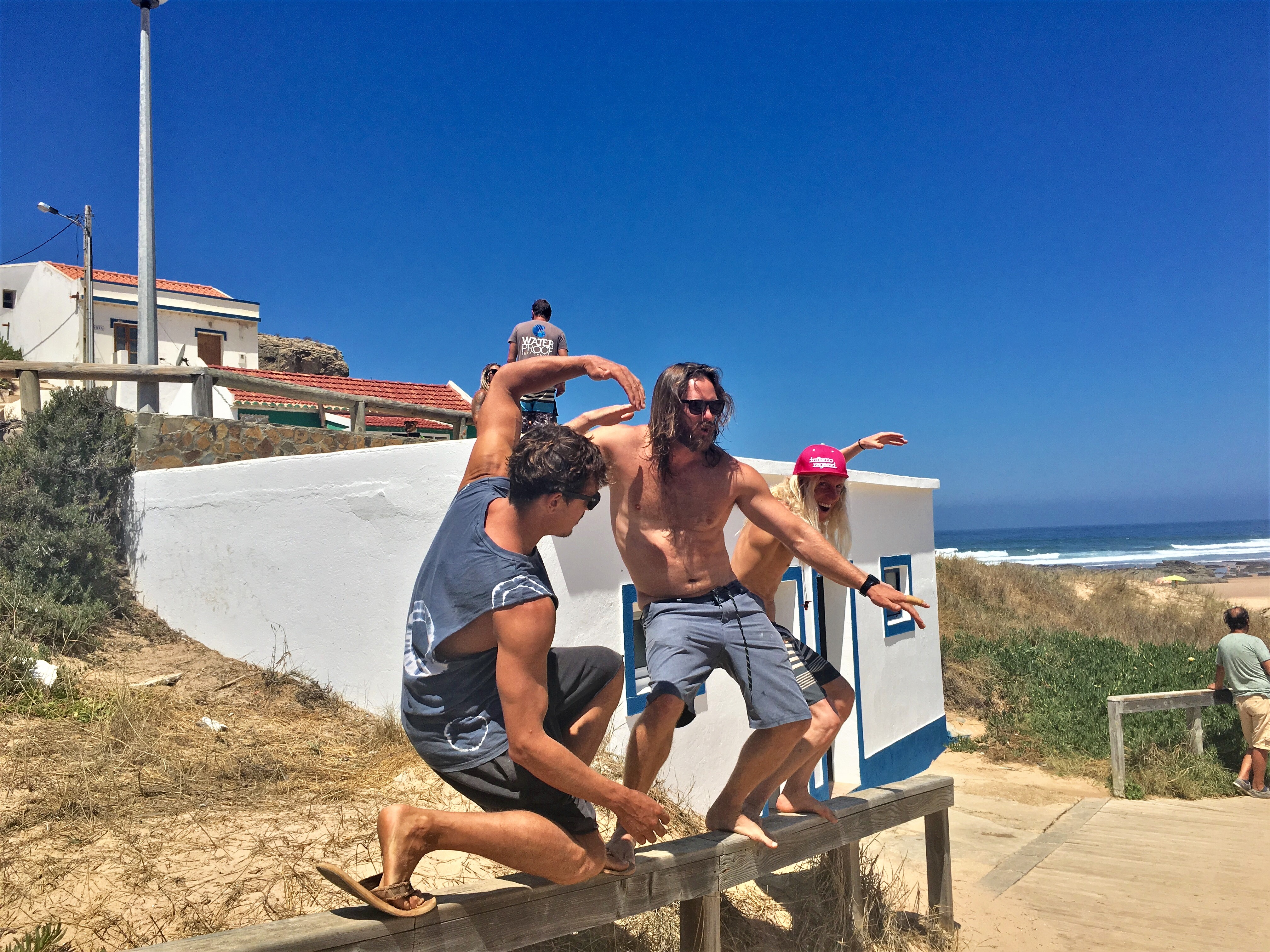 "Like that time I was guiding 3 Daniels at the same time…" My buddy (who often drives) is called Daniel, the guy in the middle the guest these past days is called Daniel. (yes you might recognize him, he's a famous Holliwood actor 😉 or at least he will be.) And than to make matters worse; his girlfriend (who shot this epic photo) joined us on day 2 after hearing all the stories of day 1- her name is Danielle…
I really do not know if we would have had a better time if the waves were any better. (ok maybe a tiny little bit…) But seriously, we had one big blast from start to finish, and a lót of waves, that too.
Thanks to all of you for making this dreamlife possible.