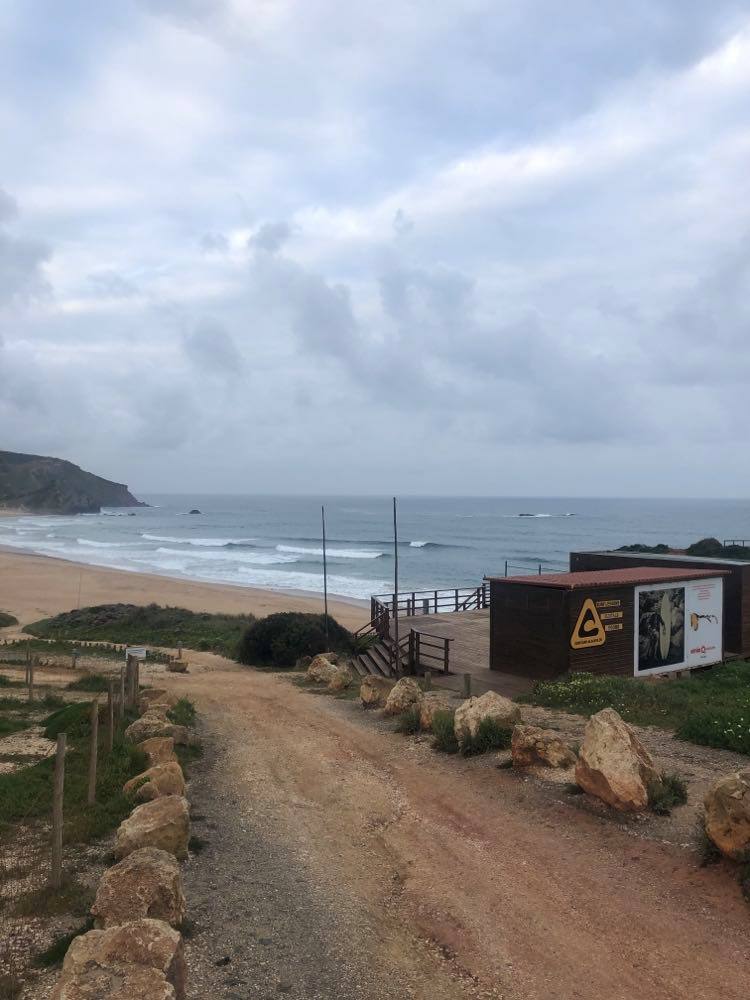 Praia do Amado is one of the most famous surf beaches in our area. It is a bit protected when the common north wind blows but still catches a lot of swell. The main hazards are caused by hidden rock formations in the water.
Praia do Amado is located just south-east of Carrapateira and is easy to reach from there by car. There is a surf school/board rental place located right on the beach as well as some cafe's. There's a restaurant with amazing views just 10 minutes walking along the cliff path heading North and Carrapateira is a 5 minute drive. There are two very large parking areas right on top of the beach but also numerous camper vans, especially in summer. You'll find public restrooms here as well.
What makes Amado (so) popular for surf?
Praia do Amado is popular for a reason. Next to the fact that this is a gorgeous beach, it is also perfectly located for the common Algarve conditions. Facing west-north-west it catches a lot of swell. Due to protruding cliffs it is also protected for the north wind that is particularly dominant in summer. The surf at Amado starts working from an easy going 2-3ft making it one of the perfect summer spots. The downside of this is obvious: you might have to share your waves with lots of other surfers. It can hold up to 10ft waves but the paddle out will be very hard by this point and the waves heavy.
This surf spot is a typical beach break with waves breaking over it's full length. It also means that shifting sandbanks influence the quality of the waves a lot. You are almost always able to find waves on any tide but this is dependent on the banks as well. The results of these surf conditions at Praia do Amado are usually short but sweet rides with some punch behind it.
Are there any surf hazards at Amado Beach?
Praia do Amado is a beach break but there are some serious rock formations hidden under water that are not always visible, not even with the low tide. When the surf gets bigger, like most beach breaks this beach tends to get rippy and heavy. Make sure you are well informed and aware of your abilities before you go in the water. In the summer you will find many surf schools at this beach. Do not surf in the front in between their flags and understand and respect that students in the back can not always control their actions as well as other surfers.
There is a hardened off road path leading from Praia do Amado to Praia da Bordeira that will offer you spectacular views of the west coast cliffs. Definitely drive, or walk if you want to spare your car.
Other surf beaches around Carrapateira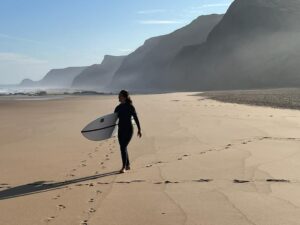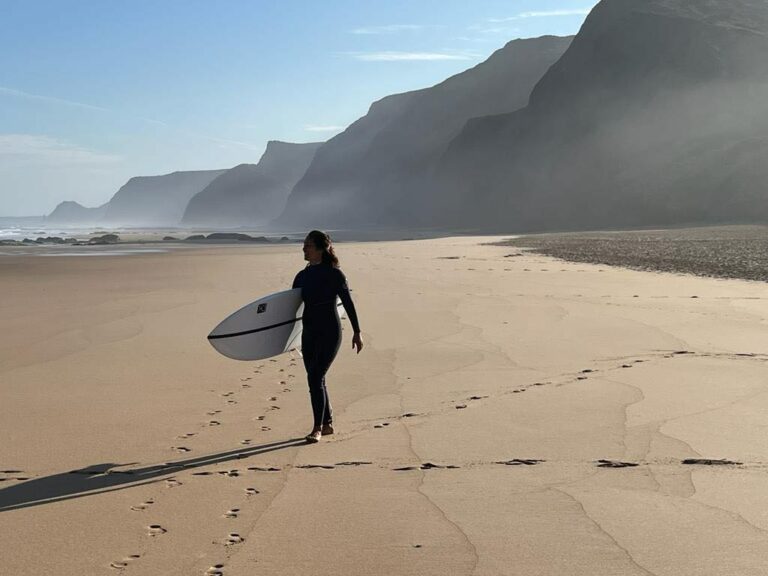 Perfect timing at Cordoama with Surf Guide Algarve and the sunshine crew 'Where is everyone?' Is the first question one of the Surf Guide Algarve
Read More »