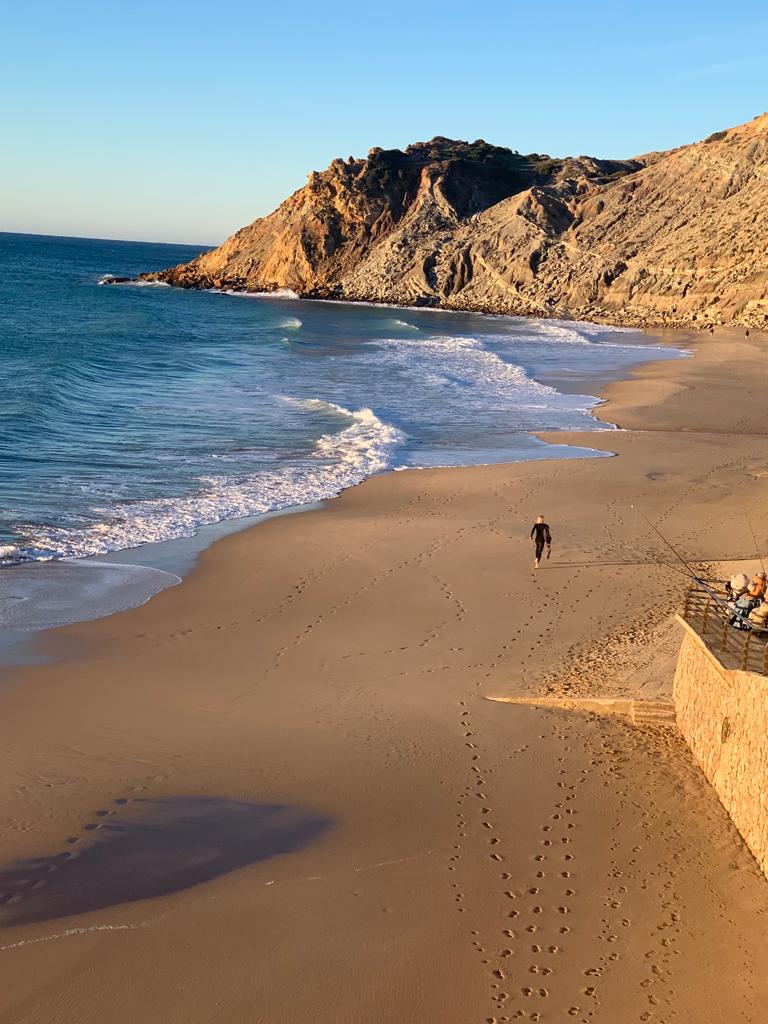 Located right on the edge of the village that carries the same name Burgau is one of the most picturesque beaches one can imagine. With small houses in all different colours and streets that all find their way to the beach. Down at the sand you'll find the fisher boats pulled up just above the high tide mark. Burgau probably is not your go-to surf spot located on the south coast and protected from most swell. But when the waves are there your Surf Guide will 100% take you there! 
Located right next to Burgau Village the beach is very easy to find. Parking is surprisingly well organised. There are a lot of restaurants and bars to choose from. (Some more traditional Portuguese and some more modern/ western.) With the Surfguide crew we always choose the spot the closest to the beach. They are well priced and you have an amazing view overlooking the ocean. 
Burgau is the perfect destination for sun-bathing tourism and swimming. But a few times a year the mood of the ocean changes and there are beautiful waves to surf. There are two possible directions for waves. A south swell will bring short period waves to the beach. The waves are usually very beginner friendly although the paddle out can be a little work-out. With a big North/ North-West swell the waves have a lot more period and power. Sometimes the point in the right corner starts to work as a right hand point-break, while the beach still forms nice waves as well. 
What should I pay attention to when I'm surfing Burgau
The beach break of Burgau is mainly just sand. Be careful on the right side of the beach there is a reef with a rocky bottom. Especially less experienced surfers be extra careful. Like anywhere in the world: be respectful for the local surfers. The local crew is usually just as mellow as its waves but it never hurts to give them priority over a good wave when it appears. 
Did you know you can drive your car all the way down to the beach and with high tide you need to drive a little trough the sea to exit in a legal way? 
Other beaches around Vila do Bispo