Surf guiding for intermediate surfers
With Surf guide Algarve we will guide you to the beaches in the south-west Algarve where the waves are the best for you for that given day. Please note that we do not teach lessons and can not take beginners. You don't have to be a pro to join us, but you do have to be able to surf unbroken green waves, know and respect the rules in the surf, be aware of such things as rips and most importantly – be stoked!
Surfguide Algarve goes on the hunt every day of the week. Waves are fickle things and it can be big, small, epic or average but for sure it will be tons of fun!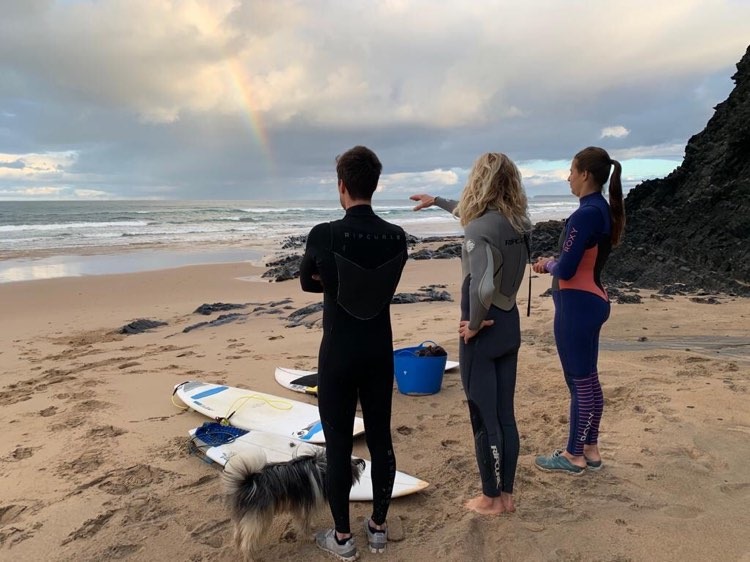 What does a day with Surfguide Algarve look like?
Because of shifting tides, changing swells and (local) wind, we don't surf at the same time every day although we are a big fan of going out early to avoid the crowds and the winds that usually pick up later in the day. Whereas in winter it might pay off to sleep in a little and wait until the sun comes around to help warm us up.
We'll always let our guests know what time we're going to go on our mission the evening before the surf day.
On a surf day we can pick you up at one of our pick-up points between Budens & Sagres. Once we get to the spot we'll check out the surf together to see where we should paddle out and if there are any known hazards. If the conditions and energy of the group allow we'll surf one long session of about 2,5 hours followed by a little chill on the beach, depending on conditions. Then it's time to make our way home again right in time for a relaxed afternoon or evening in town.
I always bring an extra leash, repair kit, wax, water and a changing robe along on the mission.
Don't forget to read this
Not bringing your own equipment? Just let us know what you're looking to surf and we'll help you out!
To make sure everyone in and outside our group has a fun session, we don't bring big groups to the beach. Does your group consist of 4 or more persons? Please discuss with me first to see what the possibilities are.
Are you not sure you if you're on the right level for guiding? Just ask us and if needed we'll help you out with lessons through one of the surf schools in the area. Please note that we cannot allow you to enter the water if your level turns out to be insufficient for independent surfing. Your actions in the water will be under your own responsibility. 
– Pick-up and drop-off near your accommodation (between Lagos & Luz, Aljezur & Vale da Telha or Budens & Sagres)
– Transfers to best surf beach (based on combined surf levels)
– Spot info
(- 1 long session)
– Pick-up and drop-off near your accommodation (between budens & Sagres) 
– Transfers to best surf beach (specially based on your level of surfing and preferred waves )
– Spot info
– Non surfing partner always welcome
(- 1 long session)
If you have your own transport, and maybe want to go to a nice restaurant with your partner after the session, we can also meet you at the beach.
We will give you the exact location and how to get there preferably the evening before (and sometimes the same morning.)
You really want to go all out and make the most of your day? Than this option is designed for you. We will get 2 sessions in with a nice long chill in between (where you can have an epic- surf picknick or just visit a beach bar.) Please note that most days the surf is best on one moment of the day and we just offer the 'normal guiding' (one long session).
Cash payments are preferred, bank transfers and PayPal payments are optional. We can give you an official receipt.
If you like to have your session caught on camera we can try and arrange that for you! After the surf there's the option to check the footage together on big screen. *Of course we have to check with the availability of the photographer, also the conditions are not always suitable for (water)photography we are sure you understand.
Prices photography:
Arranged by our famous surf photographer friend Massimo Pardini (check out his work)
Arranged by our famous surf photographer friend Massimo Pardini (check out his work)