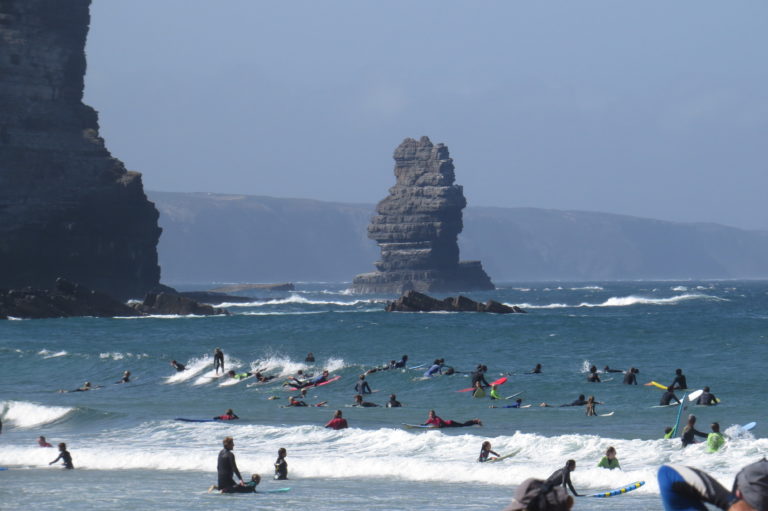 If there is a most popular surf beach in our area, it must be praia da Arrifana. The beach break offers good peaks over the full length of the beach and the sandy bottom makes it safe for beginners. Protected from the north wind but facing west, it catches quite some swell. And when it becomes too big for the beach break, Kangaroos point break (advanced surfers only!) will start to work and offer a true spectacle.
Praia da Arrifana is located to the south west of Aljezur and easy to reach by car. As the last bit of winding downhill road is resident parking only. You will have to park your vehicle at the top of the hill where you enjoy an amazing view of this beach surrounded by steep cliffs. The small town of Arrifana has a few bars and restaurants and the beach bar and surf school and gear rental shop on the beach open during the summer season. Lifeguards keep an eye on the mayhem in summer and the public restrooms are open year round.
When is the Surf good at Praia Arrifana
Arrifana is the place to go for surfers of all levels. The protruding headland at the top of the beach protects it from the predominant north winds in summer, making it one of the very few beaches not influenced by the north wind. The beach break has a sandy bottom without underwater surprises, making it safe for beginners as well. The waves start working from around 2 ft and the beach break can hold quite some swell and deliver real gems when it is around and over 3-4 ft. Once the waves become so big that the beach break closes out, the real party begins for the (semi) pro's. The point break on the right hand side of this beach, properly named kangaroos as you'll be bouncing on nasty rocks if you wipe out at the wrong time, starts working when the swell takes on serious proportions. This wave is amazing to watch but don't let it fool you, this is stuff for the very advanced only.
Surf risks at Praia Arrifana
So if it's so perfect, why shouldn't you just go to praia da Arrifana every day? Because everyone does. Due to it's unique qualities and beauty, the beach is immensely popular among schools, locals and beach tourists alike. On the other hand, the vibe in the water is generally chill and fun and with many peaks there is enough surf for everyone. So it is definitely worth a visit and you can avoid the school crowds by going early but if there is an alternative, try that one as well.
Praia da Arrifana was the location of the first ever 'NSL No Pro Invitational' – a competition for Algarvian surfers specifically aimed at the non-professional surfers from our area and organized by Surf Guide Algarve.
Other Surf beaches around Aljezur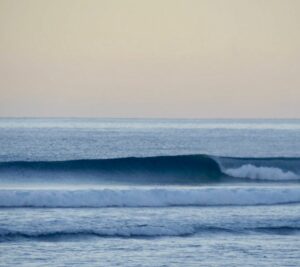 Calculated luck, sharing Epic Waves with Surf Guide Algarve Even if you know a beach like the back of your hand and study the forecast
Read More »