Sharing the stoke is better,
If you are not new to this website I dont have to tell you 2020 is an exceptional good year for surfing in the portuguese Algarve. If you are, than I just did. Where most countries around us are still in Lockdown, the Algarve seems to get away with some minor restrictions. We protect our body with a tight rubber suit against the cold. I guess we can also protect our systems against the VID, with a masker before we enter a public space. Being one of the only places where people still can travel to (to surf). Combined with the fact the swell is pumping all the time. Many of surfguide algarve´s guests/ friends come back. And thats epic, cause sharing the stoke is better!
You got some pics bro?
It is far from rare to see a person standing on the beach with a massive zoom lense. You can't help but hope that the guy shot your one moment of glory. Obviously he doesn't. If you do actually get a little shampoo- head dip that we all would claim as a barrel, he was just looking at the fine girls bottom while you got your kelly slater moment. There is of course the option to hire a guy to shoot you. We have a few friends who do a super good job. By far the most epic surf photos are the ones taken from the water. like this one from our friend massimo: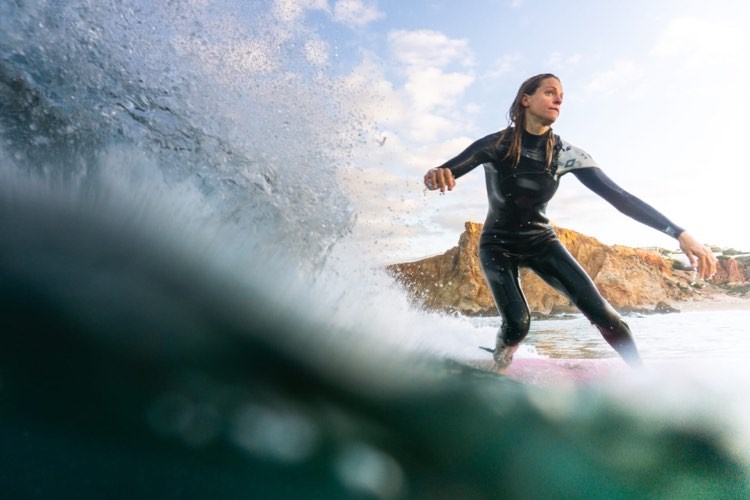 you can't surf all day
Believe me, I tried. one time in Costa Rica. I surfed a ridiculous amount of hours. No wetsuit obviously. Pure epic waves. no tidal changes. No other people. Just a few guys to share the stoke with. A perfect point break. I surfed myself literally sick. Lucky for us the surf in the Algarve is a little different. When the waves are really good, they usually are like that for only a few hours. More than enough to be absolutely drained from all the energy you got in those two arms. But plenty of time to enjoy a few other things the Algarve offers.