Surfguide special
With another lockdown looming this is one of our last shared surf sessions. It's pretty crazy if you think of it. About one year ago when the Covid/ Corona thing all kicked off. Who would have thought we would still be in this much trouble a year later? To be honest, in the Algarve we seem to get away with it pretty good. The numbers of infections are low and with just not all to many people packed on each other the masks and social distance just seem to work. Unfortunately, that does not work for the rest of the country and from the 15th of this month, we are in Lockdown 2.0. Like all 2.0's this lockdown is improved. Kids can still go to school, people can still go to church and we can still surf! No Guiding allowed so we make the best of it with this surf guide Beliche special.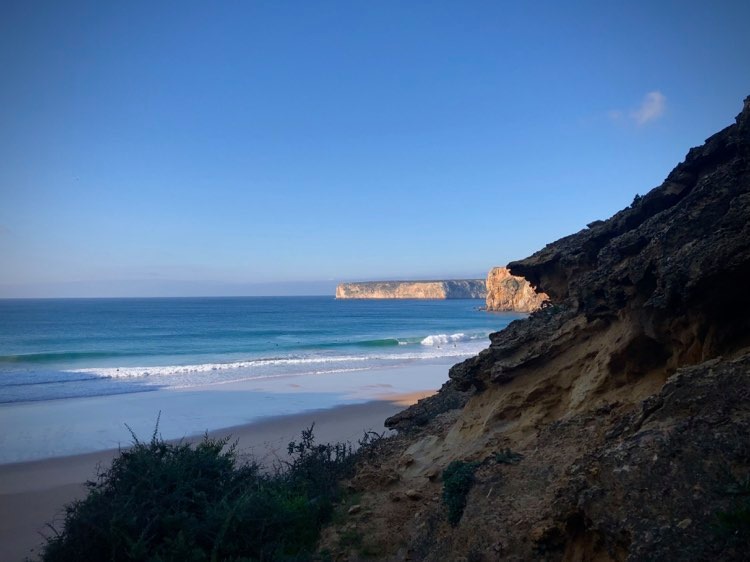 Sunny like summer cold like winter
"Lets go to the beach, he said. It will be fun, he said…"

miss surfguide algarve ice writing.
We don't often get temperatures below zero in the Algarve. And especially not so close to the ocean. But let me tell you one thing; When we do get these low temperatures we really suffer. Not a single place has any form of insulation. And most houses have to work with a simple electric heating system. Or in our case with an open fireplace that makes our house smell like a campfire for at least 2 more weeks. Not sure what's worse, smell like a hippie or be cold. Good thing we have a baby coming up and we invested in a little more expensive electric unit that does kind of make it bearable.
But the moment the sun shows her beautiful yellow golden face above the cliffs and you find yourself in a spot with no wind, it's paradise again. Don't make any illusions, the water is still nice and freezing. At least the waves are firing.