Super fun surf with the Scottish girl crew and Surf Guide Algarve at Tonel
The thing with waves is that they are very hard to schedule. You simply can not book a longboard session on the 22th of July in two months time. Or can you? 
When you are on a family holiday there is 4 people to take care of. And if only two of them surf there is limited time. Now the good thing is, the girls in this story get to surf quite a lot back home. Living close to a Scottish beach break they are no stranger of cold water surfing. A good surprise that our ocean right now is about 19 degrees. *there it is 8. One of the girls is progressing more into the Longboard style of surfing and the other prefers the shorter boards. The waves today in Tonel allow both to just go all out. Surf Guide Algarve crew again first on the beach. 
In the Algarve we have surf about 360 days a year. And almost every day is surfable. Obviously not every day will be the same quality. But with good vibes, the local knowledge and a good timing we always find the best waves for your level. Today is no different. With a half moon the tide difference is not huge and we manage to get a nice long surf session.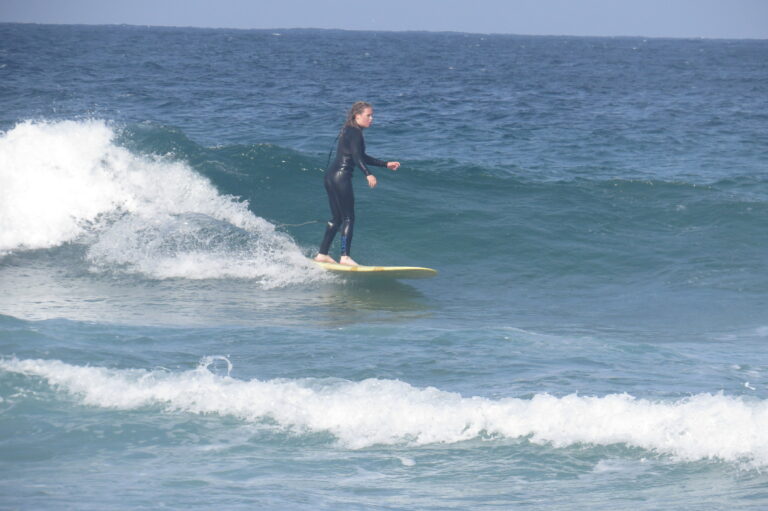 One of the girls is on fire from the get-go. She is surfing a 6'8 malibu what is a little larger then her board at home. *the 6'3 fish we also brought a little smaller so she ops to get easier into the waves. Her skills, the bigger board and these conditions are a perfect match. Her sister on the Log needs to find her groove a little bit but once she got her first wave she is unstoppable. *thats why there are only surfing pictures of her, me and her sister had enough after 2 1/2 hour surf…