Perfect waves and vibes at Cabanas Velhas with the Surf Guide Algarve crew
A massive swell hitting the coast of Portugal. All surfers sleeping bad, anticipating on what might come the next day. There are only a handful of people ready to really take on the 18 seconds 3 meter swell that is coming in. The normal you and me surfers will need to find more sheltered spots to surf. This is where Surf Guide Algarve comes in to play. With now 8 years of experience we know where to go. We get Cabanas Velhas as good as she gets and surf the spot for the first hour only with our little surf guide Crew. If there is a perfect wave for normal people this will be it. *unless you like to go left…
When the South Coast of the Algarve lights up with waves it often looks very pretty. Close to the thing you see in Instagram posts with a over a million likes. We get about 50 but the remaining 999,950 likes are in our head. Its incredible to share these beautiful conditions with the crew. These are the moments you want a photographer on board. With a few real fun waves under my belt i swapped my surfboard for the camera and make sure the guests have something to remind this session for ever.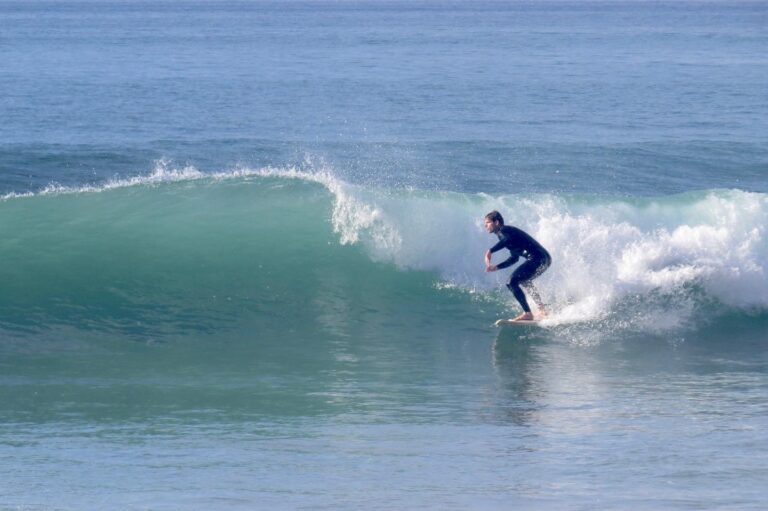 You really do not have to be a pro to join the Surf Guide Algarve adventures. As long as you can surf unbroken green waves left and right. Know and respect the rules in the line up and most important Be Stoked, you are welcome. This girl is by far the most stoked person that you will ever meet and this is why this wave deserves the title – Wave of the day –
In the heat of the moment our guest sometimes totally forget that they actually pay for this service. For some reason that is not enough sometimes. The cash is a thing we all cant live without, so thats always nice to have. But these gifts after the session are worth just as much.