Golden waves with the Surf Guide Algarve dream crew
A friend and highly respected *longboard– surf coach once said, For every good wave session in the Algarve you will have 9 bad ones. You just need to surf a lot to score good waves. Although the numbers might be a little off, and he might be a bit critical, he has a good point. Very often the conditions in the South West of Portugal are far from epic. Due to big tide differences and always shifting sand banks the window to score good waves is often small. At the right spot at the right time is the Surf Guide Algarve slogan for good reason. We all know that you do not need epic waves for a perfect session. If you share the stoke with a small crew and get the waves to yourself it might actually be better then when the waves are quote on quote perfect, with a million other. surfers out. Today we get Golden waves with our VIP crew. And to make things even better, they bring a photographer to make sure we will likely never forget this session. 
Surfing is really a weird obsession if you come to think of it. Especially the long time between the moment you think you are ready to catch green waves and actually feel that you are in control of your surfboard on a wave. The surf in the Algarve does not make life easier for a surfer. We surf every day but the waves are often so different not one day is the same. Try to use the techniques you learned in barranco in the slab of Beliche…It feels so different! This dude lives here and comes surf guiding at least a few days a week since one year. And here is the result. 
And here is the other -VIP- many many time returning dude on his backside.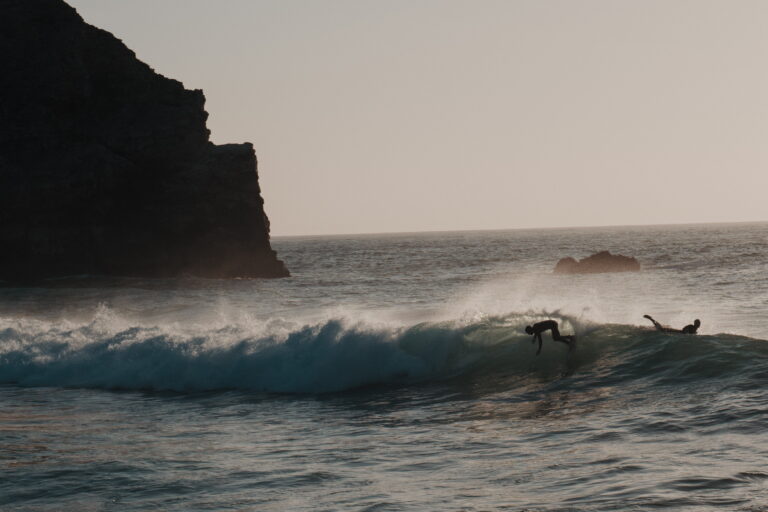 Good waves, amazing light and even better vibes. And that all caught on camera. It simply does not get better. 
More often than not we all got a whole day waiting for us after our surf. Work to do, houses to finish, kids to take care off. All this is a lot easier with a couple of waves under your belt. Always funny to pick up your kid while a bit of ocean falls out your nose. 
 But sometimes you come out of the water and nothing really needs to happen. Those are the special moments you can flow a little longer in that after surf dream state. Like this. 
Special thanks to the dream crew and the amazing photographer Lena.