Longboard perfection on Barranco Hippie Beach with Surf Guide Algarve
Do you also offer Longboard surf guiding? Are there any good longboard spots in the Algarve? The answer is yes. In general the Algarve is maybe not the most ideal place for longboarding. Especially in winter there are plenty of days that are perfect for just that. Today we score perfection at Barranco beach, dubbed as Hippie Beach for a good reason. Surf Guide Algarve is on the right spot at the right time with the right crew once again. 
It is called hippie beach for a good reason. For some reason all the vanlife campervan tourism seem to end up at Barranco one day sooner or later. *If they make it over the off-road. 
What is kind of funny is that they all try to be different but by doing that are all the same. And so are we. Smelly vans, a lot of weed, polished stones, dreamcatchers and dreadlocks. Just to name a few. Do not think I only talk trash about the hippies. They are one by one the most friendly souls on this planet. Plus I have yet to find my first piece of plastic or rubbish on this beach. 
Special beach, special rules. Especially if the waves are a little smaller the surf etiquetes are not always taken as serious. With mixed results. The vibe in the line-up is usually super mellow. This place just breaths good vibrations.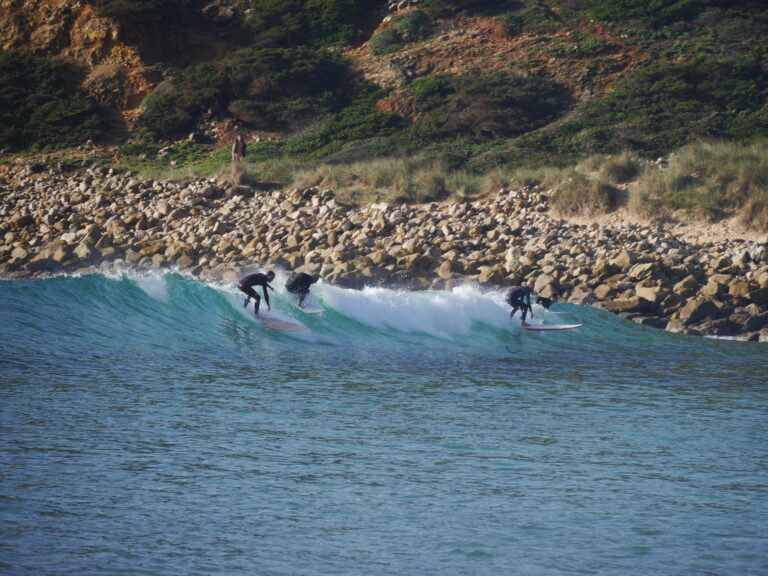 What if you grow up in Paradise and everything is possible. This is more or less what our princess is going trough right now. The surf will come naturally, she loves the water and the beach. So maybe it is a good idea to show her it is fun to clean up the beach and do something back to mother nature.