From New York to Beliche, father and son surfing Beliche with Surf Guide Algarve
Our Surf Guide Algarve guests are all the way from the city that never sleeps. Where everything is possible and dreams come true, New York. But for empty good waves, stunning nature and Pastel da Nata, they dop need to come to Portugal. A super cool father and son combo, both more or less on the same surf level. Dad obviously a little more experiences and the son a little more flexible. We have the pleasure to guide them around and show them the waves that the Algarve has to offer.  With a serious swell in the ocean we surfing Beliche today, and man, its on fire. 
It is the aim from Surf Guide Algarve to get you in the best waves possible for your surf level. The Algarve has a good mix in different surf spots and waves. Not every wave suits every type of surfer. These guys know how to handle themselves in the water. Dad surfing for over 20 years and son is hardly 20 years young but pretty much confident in anything you throw at him. The swell is solid but with the perfect timing we get Beliche just amazing. And the best thing, it is almost empty too. Here is some user friendly madness.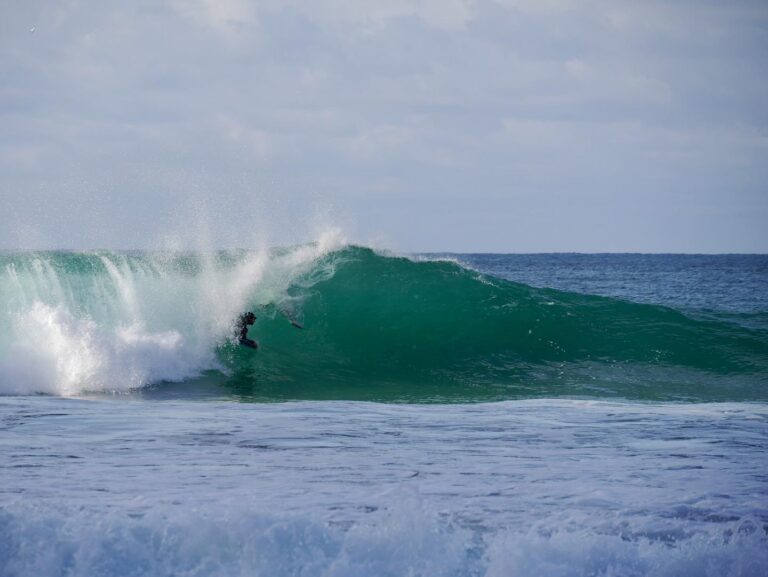 Stoked is an interesting word. if you look it up it says, excited and very happy about something. 
But the stoke you get from driving to the beach with your favourite tune on, anticipating on what is coming is a different stoke than the one you get after surf. The after surf one is a feeling of achievement, satisfaction. Mixed and combined with a tired/ sore body. A little light headed, sand and salt water at places it should not be.Above all, stoked with the waves you got.