This is what Surf Guiding is about, surfing Inrgina with no one out
Even in Paradise the sun does not always shine. But without rain, the flowers would not grow either. Same goes for our waves. We need low pressure systems to get the ocean moving. It feels a little hypocrite to not like them when they are a lot closer to home the normal. In fact, we do not mind a bit tricky forecast. Most people will skip the day, waiting for quote on quote 'better' conditions. Today is a real challenge. It looks basically onshore everywhere, but there is a good size swell in the ocean. With a little more experienced Australian surfer joining the Surf Guiding mission we score Ingrina with no one out.
''Oh man, I would never have surfed this beach on my own, I am so stoked''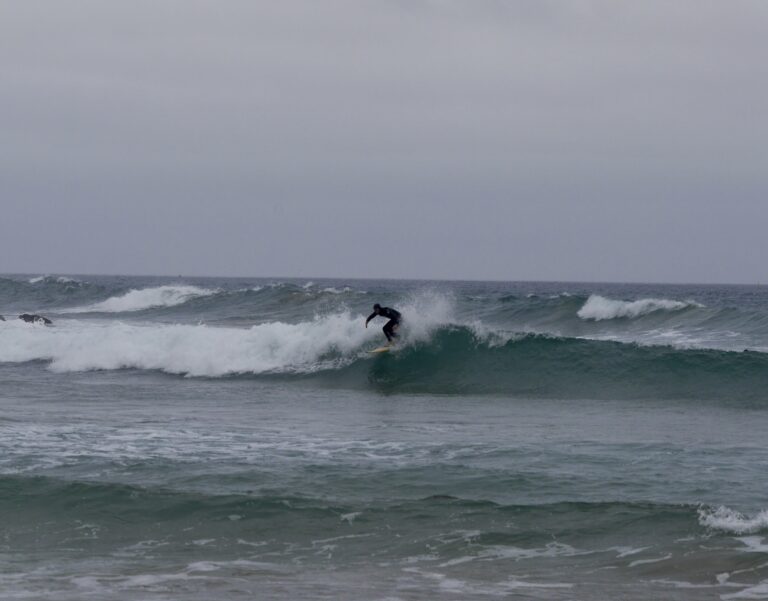 Whatever you do, do not go right
From all the surf spots we have in our wave rich coastline Ingrina might be one of the most tricky. The bay is very small and with a bit of swell the water really moves around a lot. We really only take experienced surfers here when it is not complete madness. When it is really on it is basically a boogies only – pro surfers wave. But at that moment there are other less scary places working too. Today this is probably the only surfable wave there is, and there is no one out. Lefts only, do not get pulled off your take off spot and watch out for the big sets. And whatever you do, do not go right. 
This is what Surf Guiding is about
Sharing the stoke with likeminded people. It is incredible to share the good vibes with someone you basically just met who has the same weird obsession as you. All the way from the other side of the Globe, on a trip in Portugal, Algarve, looking for waves. With a tricky forecast it makes even more sense to call Surf Guide Algarve. We share really fun shoulder high waves all morning long. This is what Surf Guiding is about.